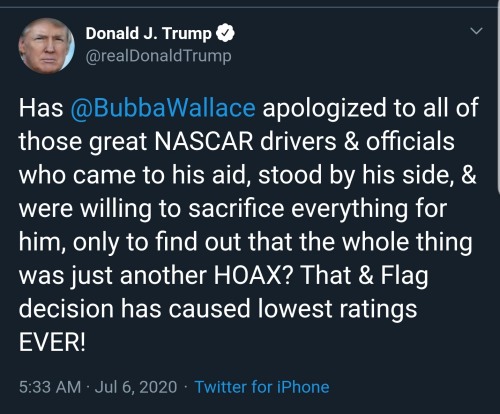 It's Tuesday. I know everyone loses their shit if I put up anything political but you're just going to have to deal with it today. Our assbag of a President released this tweet yesterday and once again it's complete misinformation. First, Bubba Wallace did nothing wrong and therefor has nothing to apologize for. Second, it was not a hoax. An FBI investigation determined that Wallace was not the victim of a hate crime and that the pull rope fashioned like a noose had been on a garage door at the speedway since as early as October. After the FBI's investigation, Wallace said that he was thankful that the noose wasn't intended for him but that he doesn't think the ensuing investigation was an overreaction. He thanked his fellow drivers and NASCAR for their overwhelming support.
Republican Sen. Lindsey Graham (South Carolina) said in an interview with Fox News Radio that Wallace's reaction to the noose "made perfect sense" and commended NASCAR for supporting him. "You saw the best in NASCAR. When there was a chance that it was a threat against Bubba Wallace, they all rallied to Bubba's side. So I would be looking to celebrate that kind of attitude more than being worried about it being a hoax," Graham said.
And third, NASCAR viewership on Fox networks is up +8% since returning from its pandemic hiatus on May 17. In addition, NASCAR said ratings on NBC for Sunday's race at Indianapolis were up 46% from last year's event there.
Seriously, please take a moment to check that your voter registration is up-to-date or register for the first time at:
If your state doesn't have mail-in voting, you can request an absentee ballot here:
https://www.vote.org/absentee-ballot/
-keep