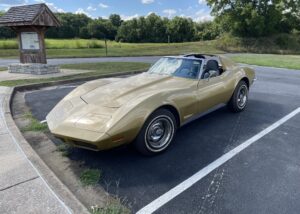 It's Friday! The weekend is almost here again and today I have some Corvette 3rd generation goodness to share with all of you! These two fine examples were found at the Antietam Battlefield in Maryland, by Steve, one of my readers who definitely has an eye for classics. The gold C3 is very easy to identify as a 1973 due to the chrome bumpers on the rear but not on the front. The red C3 is more difficult because the rear is not visible. Judging from these photos, it could be a 1974, '75, or even a '76. And seeing both C3s at the same place is an added treat. Thanks for taking the time to send them in, Steve!
Double babes & double jokes… it must be Friday!
-keep
Hey there Keep,
Spotted these two beauties in the wild today at Antietam Battlefield (parking lot at Burnside Bridge).
Thought you and the viewers might like to check them out. Was a beautiful, sunny 85 degree day with a nice breeze! Perfect for a drive with the tops out!
Enjoy!
Steve