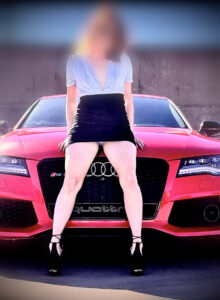 It's Friday! The week is wrapping up and what better way to do it than with both automotive and amateur goodness! That's right, I have 'em both for today. One of my readers sent in photos of his killer red 2015 Audi RS7 and a few shots of his girlfriend as well. That's a damn good combo that I think all of my readers can enjoy.
So enjoy the photos along with the usual Friday double babes & double jokes!
-keep
Hello Keep! It's been a while since I have reached out. Have been coming to the site since the beginning (late 90s?) I have attached a coupe pics of my girlfriend, with her permission. She is one hot little redhead, 39 years old! Lucky for me we both have gotten into erotic photography! Post if you wish but please no names.
Also a pic or two of my 2015 Audi RS7. If you have never driven one, do it is one amazing car! Took it to a shootout last summer. It went 0 – 150 mph in just less than 1/2 a mile. It has a governor at 150mph. The car is stock
Take care, thanks for all your work over the years, we all really appreciate it.
-Anonymous