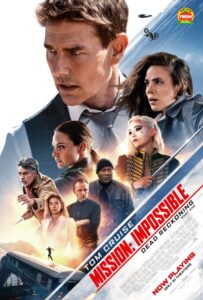 It's Monday. The brutal heat & humidity has moved out and it took the Canadian wildfire smoke with it… for now. I can't imagine what it would be like dealing with triple digit temperatures for weeks and weeks in a row like out in Phoenix. That kind of heat is unrelenting. Hell, I was ready for a break after just a few days of it. That's some nasty and deadly stuff.
I caught the new Mission: Impossible film on Saturday afternoon. I've liked the previous films and Dead Reckoning is all of those and more. If you're looking for an action movie that just doesn't stop—get out and see this on the big screen! (Part 2 releases in June of next year)
I finally finished Better Call Saul over the weekend. If you're a Breaking Bad fan, you won't want to miss Better Call Saul. Its been several years since I finished Breaking Bad, so now I'm seriously considering watching it again.
-keep