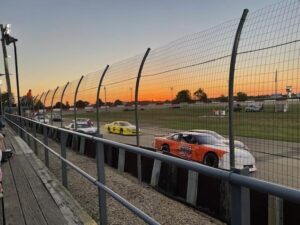 It's Monday. Had a really good weekend. Got together with a buddy Friday night to check out some short track stock car racing at the Grundy County Speedway. They held twin 25 lap features for all 5 divisions: Late Model, Sportsman, Street Stock, Pure Stock & Midwest Super Cup. We had an absolute blast and enjoyed every minute. I'm still picking the rubber out of my hair!
And speaking of racing, the Nascar Cup series had the weekend off while coverage switches from Fox to NBC. However, Tony Stewart's SRX Racing Series kicked off its season Saturday night in Pensacola, Florida. From what I understand, all the drivers are former Nascar and Indycar drivers like Bill Elliott, Bobby Labonte, Michael Waltrip, and Marco Andretti. The season consists of 6 races held at 6 different short tracks primarily on the East Coast. I missed the heat races but the feature race was really cool. They're extremely competitive but you could tell they were all having fun. The goal in creating this series was to get away from all the overwhelming Nascar rules and bring the fun back into racing, and I think they nailed it! Watch race #2 next Saturday night on CBS when they race at the South Boston Speedway in Virginia.
I hope all the Dad's out there had a good Father's Day.
-keep