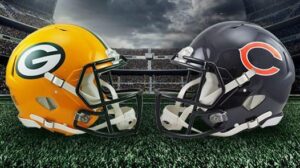 It's Monday. Had a really good weekend. The weather was spectacular so I got some music going on Saturday afternoon and washed the van. I was going to do the Vette as well, but I decided it was time to take it somewhere and have it professionally detailed. On Sunday the girlfriend and I took a spin out to the Joliet Municipal Airport for their annual plane & car show. I like this show because you can get up close and personal with all of the planes. And, if you're up for it, you could even go for a ride in either a plane or helicopter. If aircraft isn't your thing, there's the car show that featured roughly 200 cars. I took a bunch of photos I'll feature my photos sometime this week.
After the show on Sunday, I made the mistake of watching the Bears take on the Packers in their home opener. The first half looked promising, but the entire second half was just embarrassing. I have a bad feeling about this season and its only just begun.
FYI: I've been having a problem with the cache that has been preventing some readers from seeing the daily updates over the past couple weeks. I'm hoping to have it resolved shortly.
-keep