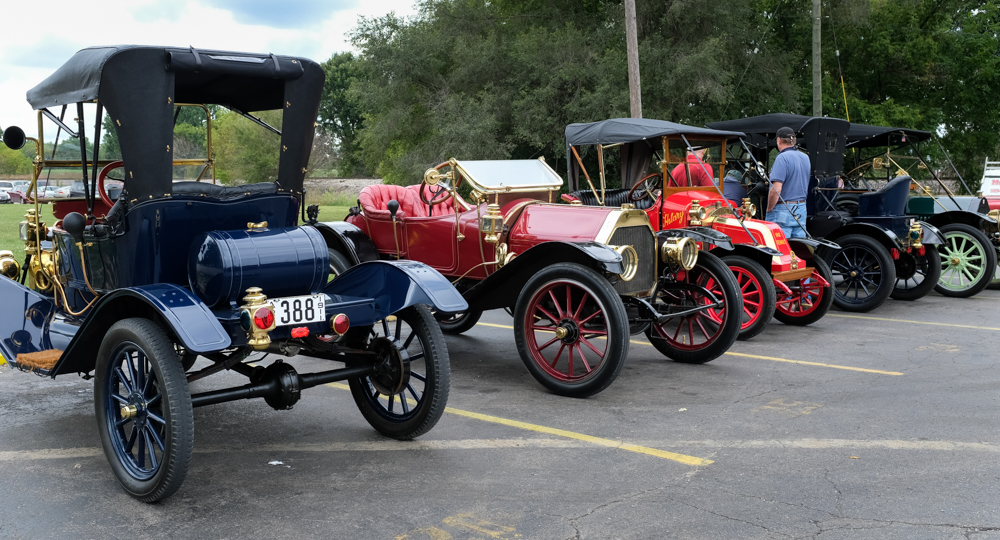 It's Wednesday. Here's something you don't see every day. Today I have some automotive goodness of the earliest kind! While visiting Dexter, Michigan, one of my readers stumbled upon a group of men and their cars from days gone by. He caught up with them at a local restaurant to get a better look. Maybe it's just me, but whenever I see vehicles like these from the dawn of automotive history, it puts a smile on my face. I can't help wonder what their designers and engineers would think about today's modern vehicles and how proud they would feel knowing their creations are still on the road. And not only are they still running, but they look and function perfectly. What an incredible find. A huge thanks to Brad for allowing me to share his story and photos!
-keep
Keep! Long time no write! While visiting Dexter, MI, i saw a really old car go by. Then another, and another. I followed them to a restaurant where they were taking a midday break and got to see these classic beauties from the early days of automotive goodness up close. They were on a two day tour from Greenfield Village to Okemos, then return, about 100 miles each way. Due to their age (the cars, not the drivers), there were three mechanic support vehicles following.
The closeup shows the suspension on the Brush. The chain must be kept clean, and there are two oil cups that need to be filled. The spring is obvious, but what damps the spring motion is a friction disc (under left oil cup) that rotates when the axle moves up and down. And that needs to be adjusted occasionally!
It would be a treat to putt along in one of these on the old blue roads for a day!
-Brad from Kent OH