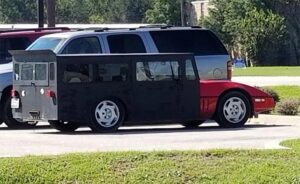 It's Sunday! This monstrosity—this bastard—this crime against nature—this insult to the eyes, has been seen lurking around the Florence, South Carolina area. Nobody seems to know what it is or where it came from, but judging from the photo it appears to have the front of a C4 Corvette and the rear of a Hummer. Well, sorta.
So, the big question is… why?
-keep
Half Corvette Half Shoe Box.
The response has not been kind to this Frankenstein creation that features the "head" of a C4 Corvette and the "tail" of what looks like Top Gear's Hammerhead Eagle i-Thrust creation.
Some of the comments posted on Reddit in reference to the amalgamated vehicle include:
Half Corvette Half Shoe Box.
Hummvette or Cumvee
Damn that's a lot of money and work for a turd.
The new GM H4
It's a mail delivery truck with better performance.
Is that the new Volvo?
When you need a bigger backseat.