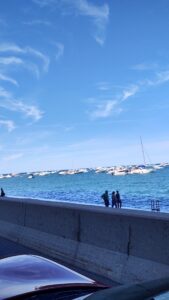 It's Tuesday. Did everyone have a good Labor Day? Here in Illinois it was a gorgeous day with blue skies and temperatures in the low 80s. Since we both had the day off it was a perfect opportunity to hop into the Corvette and take it for a spin. We haven't had the Vette out very often this year so it was nice to just take off and go.
We spent most of our drive out in the western suburbs of Batavia and St. Charles. Beautiful area with incredible homes. After that we headed into Chicago and took a ride north on Lake Shore Drive to check out the lakefront. There we lots of people out enjoying the beaches, bike riding, jogging, and all kinds of people in boats just soaking up the sunshine and taking it easy on the water.
My girlfriend heard about a Korean place called bopNgrill on the Food Network, so we decided to grab some dinner there before heading back home.
Summer may be coming to a close, but I hope we can squeeze out a few more days like that before winter takes over.
-keep