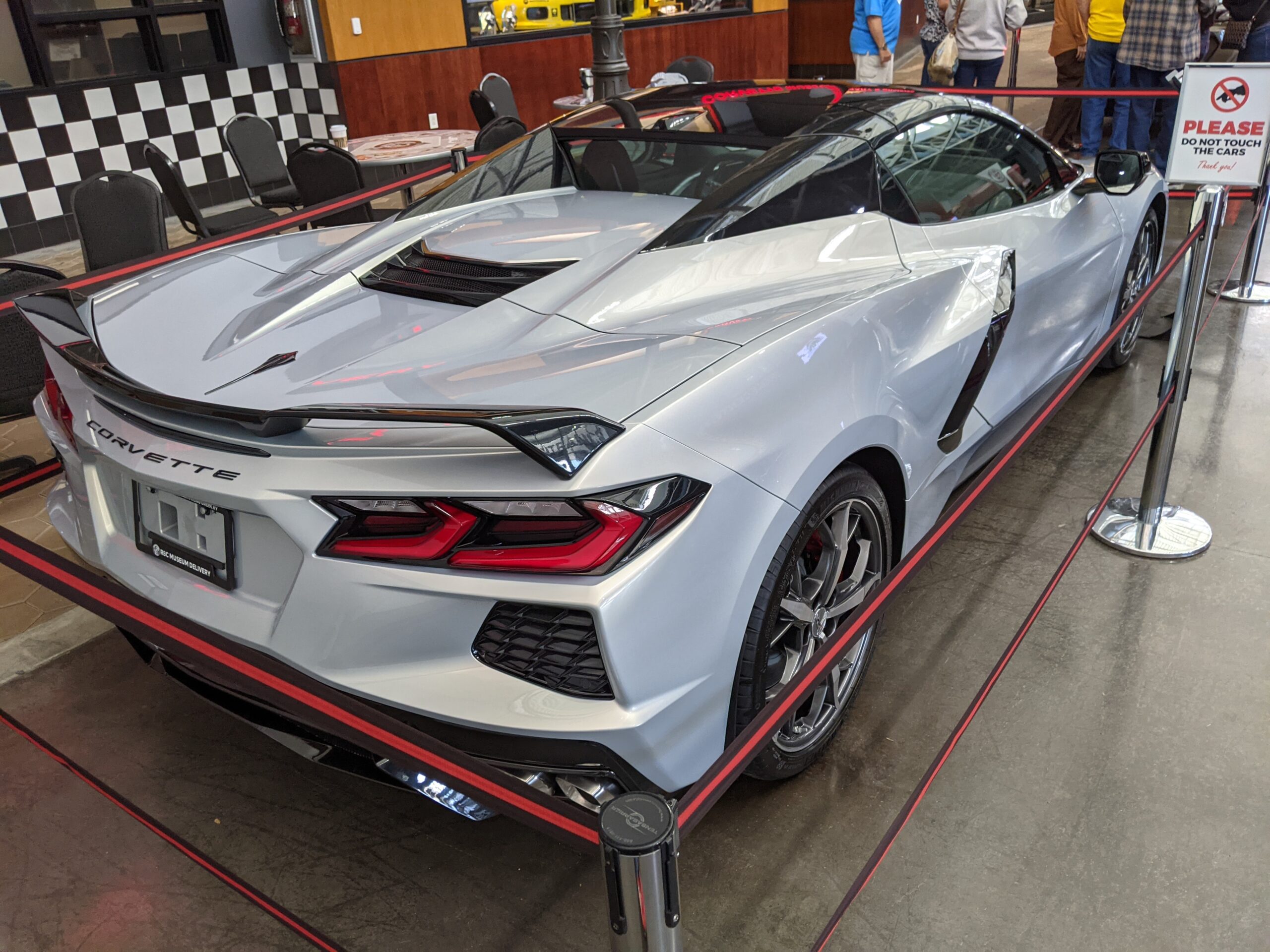 It's Tuesday. Jealous. So completely jealous!
-keep
I picked up my near 2021 at the Museum. Took my wife to the event and it was the best 11 hour drive home. In order to get to the point I could afford a car like this, I took a pay cut at a new startup 7 years ago. I did daily drive a 2010 Z06 for all these years just loving the Corvette brand. I bought it used 6 years ago and rocked it until the C8 was announced.
The lust was heavy in this one.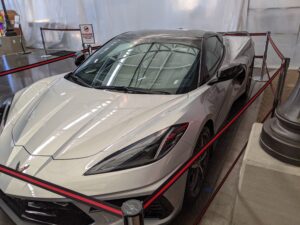 I gutted out at least 600k miles on airplanes, and I stayed in hotels at least 300 nights over these past 5 years. For the first 5 years of the job there was no pay raise, nor real "upside." Then about 18 months ago, I heard rumors the company I worked at was on the market which would end in a "business event" that I could cash in for a nest egg. I waited and waited as the rumors swilled around that business event until in November 2020 it happened. On a Thursday. By Saturday I was in the dealership.
I chatted with my wife and she was emphatic I order exactly what I wanted as this was likely a once in a lifetime event with the car. I spent hours on the configurator and ended up with :
Hard Top Convertible
LT2 Interior with GT2 Seats
2 Tone Interior (Sky grey)
Carbon fiber accents
Z51 Performance Package with Magnetic Ride and Front nose lift.
Blacked out the roof and Nacelles
Edge Red Calipers
Splash guards and Rocker extensions
Other than the LT3 interior there were not many options I could have selected, but every option was intentional and had reason. The black roof and nacelles were a throw back to my first Corvette (Le Mans Blue) which I had the transparent panel as my primary top as it gave me the blacked out look I love. So this car is exactly what I wanted on paper, as even the rocker extensions were selected for the black tie in. as the front lip "flows" back to the rockers and then up to the scoop then onto the roof.
On that Saturday, I was sitting in a dealership with the dealer with the build spec I brought with me. He suggested one change which was the black mirror option. That one option tied the car together since the option also blacks out the spoiler – this was a fantastic add and I hat tip the dealer as it finished the black flow theme. I put the deposit down, thinking I would not see the car until June given the dealers comments on his allocations.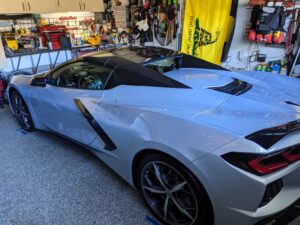 Fast forward to December, I text my dealer to have a touch point on his allocations, and get a "call me asap." I did and somehow I got an allocation in December versus Feb/Mar as I expected. From there I was on pins and needles, and was actually alternating hope for a fast delivery and a slow roll since I was doing the RC8 option, and would have to drive 700 miles from Bowling Green over the mountains to VA, so weather would be a concern. However, when the plant shutdown for 3 weeks, I felt the lust again 😊.
In mid March, I get notice I was at 4400 status which flipped to 5000 overnight, and I sold the Z06 that same day. I won't bore you with the details on how I got to Kentucky, but I picked up the car on Monday the 30th of March – 3 months ahead of expected and drove the 11 hours home with my wife. She drove 3 hours of that 11, and didn't even realize it. The car is a hit with her.
This car is a dream car and in full alignment with your "Stop Dreaming…" theme. And I have watched your channel over the last 6 months and it kept me sane as you explained the process in a way my dealer hadn't – especially the "I Don't Know" meme.
I have Attached a couple shots from the delivery of my dream and its new home in VA.
S