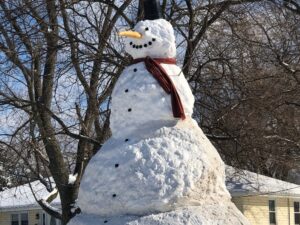 It's Monday. I got up yesterday morning and it was -8 degrees outside. That was the actual temperature, not wind chill. We also picked up another inch or two of the horrid white stuff with more predicted for Tuesday & Thursday. Again, how do Canadians deal with this shit and not murder anyone? When I step outside and that cold hits my face, I want to kill anyone who gets between me and the door to back inside.
And speaking of the horrid white stuff, Kelly Thorsen and her family in Plainfield, Illinois, braved the extreme cold to create a giant 18-foot snowman. "We made one for fun and out of boredom three years ago, and it was 17 feet," Thorsen said. "We promised we'd try to top it as soon as we had enough snow." It took roughly seven hours to create the giant frosty which is six hours and 59 minutes longer than I would've lasted out there!
Congrats to Super Bowl LV Champions the Tampa Bay Buccaneers! A 7th NFL Championship for Brady—unbelievable!
-keep
Bring on Nascar Speedweeks!