It's Tuesday. That was a damn nice Labor Day weekend. Spent the day out in the Corvette on Saturday because the weather was spectacular. One of the stops we made was Snug Harbor Marina on the Illinois river for lunch. Had a tasty hot dog, chips, and a beer while checking out all the boats, skiers, and tubers. We filled our bellies and continued on along the river shooting through the country roads and tiny towns along the way. If that turns out to be our last cruise of the season, I'll be totally okay with that.
After some rain moved out of the area Sunday morning,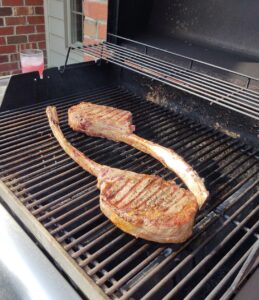 I cranked up my tunes and washed up both of the cars. I got done just in time to catch some BBQ for dinner and watch the NASCAR Southern 500. It was a good race, really enjoyed that. We wrapped up the holiday weekend on Monday at a cookout. Again the weather was beautiful and the Tomahawk steaks, ribs, and sweetcorn went down so very nicely!
And cake… can't forget the cake!
-keep