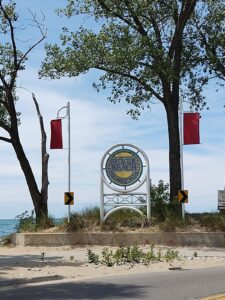 It's Thursday. Took the day off yesterday and the girlfriend and I jumped into the Vette and went up to St. Joseph, Michigan. We had been up there for a brief visit a few years ago and really liked it, so we decided to go back for another look around.
St. Joseph is a beautiful city in southwest Michigan positioned by the mouth of the St. Joseph river on the shores of Lake Michigan. There are lots of interesting stores and restaurants to check out, but Silver Beach and Tiscornia Park shouldn't be missed with it's sand dunes and two North Pier lighthouses that date from the early 1900s.
If you find yourself in south-west Michigan, take a drive along the lake on the Red Arrow Highway as it turns into Lake Shore Dr. Follow it up to St. Joseph and enjoy the scenery along the way. And if possible, drop the top on a beautiful late-summer day.
-keep