It's Tuesday. Over the years I've featured many different beaver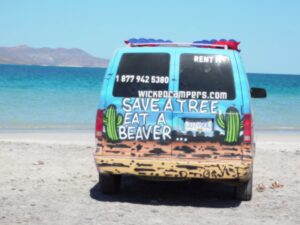 sightings from around the world. They come from you guys, my readers, who take the time to send in your discoveries and I appreciate the effort.
This one comes from Ross, who found what I believe may be the first beaver sighting on wheels! That's right, instead of it being a building or consumer product, this beaver is plastered on the side a van. And this particular beaver happens to be shaved, and proudly I might add!
It comes from a camper/van rental place called wickedcampers.com. They rent all kinds of unique vans and campers. But why the giant shaved beaver on the side? Heh, why not?
-keep
Hey Keep… Long time reader… even before the Midi and Boob scans. Contributed a couple times. Subaru vs cow and the potato gun. Oregon is the "Beaver State" and it's on the back of the state flag. A huge amount of beaver content in Oregon. I'm in Mexico now and traveled out to Playa Telecote and saw this. Thanks for the best site on the web! -Ross